Leicester Tigers stay loyal to a natural pitch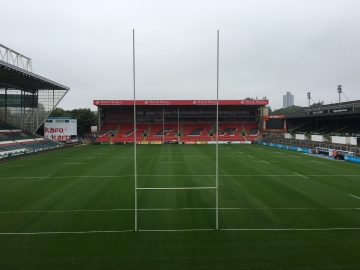 Welford Road, home to the Leicester Tigers, has become the first UK Rugby Club to install a County Turf grown Eclipse Stabilised Natural Turf pitch. County Turf Director, Chris Medley said: "We have been working with Steve and his team at Tigers for over a year now. We carried out trials last winter which went extremely well, and we harvested and laid the 720 rolls of turf which makes up the new pitch at Welford Rd in just 4 days in August 2016."
Steve Packwood, Head Groundsman at Welford Road is delighted with the new pitch and service offered by County Turf in the planning of the project and in the follow up support offered. 'County Turf has done a fantastic job in the planning, growing cutting and delivery of the pitch. We are working closely with County Turf and are in touch daily with ongoing fortnightly visits.'
Click here to see what Steve Packwood had to say about the new pitch.
Eclipse Natural Turf is a popular choice in stadiums all over the world and has been used for the 2000 Olympic Games and the 2003 and 2011 Rugby World Cups. Eclipse has also been a great success at Brentford FC and The Grove Hotel in the UK, both providing fantastic playing surfaces. Eclipse is 100% natural grass, grown in a unique patented stabilised mat which is perfect for the aesthetic and athletic demands of today's sports pitch market . Eclipse pitches offer a 100% natural grass playing surface which meets all the governing body regulations and is maintained exactly as per a traditional turf surface. Eclipse offers the ability to rapidly add and change logos as well as easy replacement of worn out areas. The stabilised matting means that the pitch has dramatically increased wear tolerance with a decreased incidence of divoting and 'in-play' damage. The Eclipse Turf is instantly stable and ready for play, in fact Leicester Tigers played on it 8 days after installation and beat the Ospreys 42-38.
Click here to find out more about Eclipse Stabilised natural turf.